Battery
Select your model using the lists below
Motorcycle Batteries
Find the best battery for your motorcycle
For the best performance and easy starting, it's important to ensure you fit the correct battery to your motorcycle.
Wemoto lists batteries to the motorcycle, scooter or ATV that they fit, so you can be sure that you order the correct one for your model. Use the dropdown list above to search for your bike, or if you'd rather search by the code of your battery (for example, YTX9-BS), use the part number search below.
Battery Code (eg. YTX14-BS) :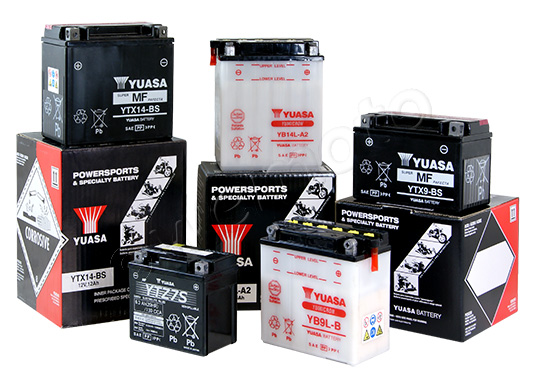 Wemoto also stock battery acid (electrolyte) and battery chargers for the maintenance of all types of battery.
Yuasa, Motobatt, Skyrich and Nitro batteries
Nitro motorcycle batteries are a high quality pattern alternative made to the same specification as the original equipment manufacturer's (OEM) battery, and offer savings when compared to the original. Nitro also manufacture batteries specially designed for Harley Davidson with the correct terminals and high CCA (cold cranking amps).
Yuasa batteries are fitted as original equipment for many motorcycle models, including many Honda and Kawasaki models.
Motobatt batteries are high torque upgrade, offering higher cold cranking amps and better starting than the original motorcycle battery. All Motobatts are sealed AGM batteries.
Skyrich Lithium Ion batteries are light-weight (1/3 of a normal lead-acid battery) and more compact. They also benefit from having a higher torque for improved starting power.
Types of lead acid batteries
Conventional motorbike batteries
Many motorcycle, scooter and ATV batteries are supplied 'dry' - they must be filled with acid and charged before use. They'll also need topping up at intervals.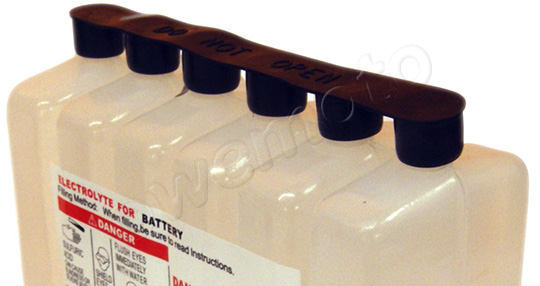 VRLA, Gel and AGM batteries
VRLA (Valve regulated lead acid) batteries are also known as 'maintenance free' batteries. They do not require topping up.
In AGM (Absorbed Glass Mat) batteries, the electrolyte hold within a glass fibre mat, which makes them more resistant to damage from vibration.
Gel batteries are already filled with acid at the factory and do not require the user to add the electrolyte. As they are factory sealed, they are safe for applications where the battery is installed on its side
For more in depth information about different types of battery, read our motorcycle battery installation guide and motorcycle battery care guide.
Motorcycle Battery Chargers and Battery Accessories
Buying a trickle motorcycle charger for the maintenance of your new battery is a must. See our battery charger comparison for the features of our motorcycle battery chargers.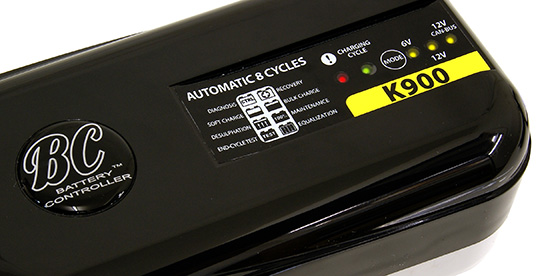 CAN'T FIND WHAT YOU'RE LOOKING FOR?

—
Due to the COVID-19 situation we are experiencing extremely high levels of inquiries with limited customer service staff on site. As always, we aim to reply as quickly as possible however current response times can be up to 3 working days. Queries relating to current orders are being prioritised.

Please check our Covid-19 FAQ's page for more information, Thank you for your patience during this time


Please use the form below to submit your enquiry taking care to enter your correct e-mail address. If you are enquiring about an ongoing order please quote the invoice or order number in the subject line.
OUR RANGE OF OEM AND PATTERN PART BRANDS

—