Brakes
Select your model using the lists below
Motorcycle brake parts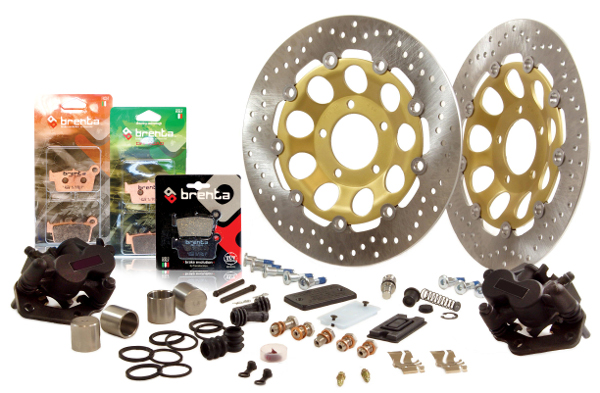 Wemoto has a comprehensive range of motorcycle brake components so when it's time to do work on your brakes, you can get all the bits you need from one place. We cover a wide range of motorcycles, scooters and quads from the 60s to the latest models; use the list above to find brake parts for your bike, including:
It's important that you have confidence in your stopping power - so Wemoto only stock proven quality brake parts.
Motorcycle and scooter brake pads
A choice of brake pads is available for most models from:
A choice of either organic or sintered brake pads is available.
Organic pads are made from organic materials and bound with resin. Suitable for most road conditions, they bed in quickly and tend to be quieter than sintered pads.
Sintered pads use a higher percentage of metallic compounds. This is a more effective compound for heavy use, though some riders may find they feel 'grabby', particularly in the rain.
All brake pads are listed to the bike they fit. Use the drop downs above to find brake pads for your motorbike.
Motorcycle and scooter brake discs (rotors)
Motorcycle brake discs (or rotors) are listed for many models in both wavy and standard profiles, from a choice of either EBC or Kyoto.
For more information about the types of brake disc, see our brake discs fitment and information guide
Motorcycle and scooter brake shoes
Classic motorcycles and scooter brakes often used a drum brake system – a pair of brake shoes inside the drum brake move against the drum lining when the brake is applied, and the friction between the lining and drum provides the stopping power. As with any friction material, the shoes must be replaced periodically. Wemoto stocks EBC brake shoes for earlier model fitments.
Brake shoes are listed to the bike they fit. Use the drop downs above to search models
Motorcycle brake hoses
Wemoto only sell braided steel brake lines, which resist distortion under pressure and high temperatures, transferring braking power more efficiently under all conditions. Brands include:
Both HEL and Goodridge BuildaLine hoses are approved by TUV and come with a lifetime warranty.


Motorcycle and scooter brake fluid
Wear from moving parts causes disintegrated particles from your brake system to end up in your brake fluid, leading to a 'gunge' which interferes with free movement of brake parts and so the power of your braking system.
Air and moisture exposure can affect the effectiveness of your brake fluid. When brake fluid has air bubbles (from moisture in the air, or water contamination) it can cause your brakes to feel 'spongy' – this is because air compresses more easily than the brake fluid, so your braking is less efficient.
Dot 4 braking fluid, is used as standard by the vast majority of manufacturers.
Brake Bleeding Tools
Brake fluid can damage paintwork, so a good brake bleeding kit can help to avoid making a mess when bleeding your brakes.
Motorcycle brake master cylinders and repair kits
Mastercylinders can be expensive to replace with an OE part, but a master cylinder repair kit will cover the usual points of failure to save you the money on buying a full replacement.
Motorcycle and scooter brake pistons and seals
OEM brake pistons are often chrome-plated steel, which can rust when the chrome plating flakes off. For many models Wemoto stock a stainless steel upgrade as well as OE-style pistons, which will last longer and be more resistant to corrosion.
If you're replacing the brake seals, be sure to clean your brake pistons before you install the new seals; don't forget to clean out the recesses, which frequently collect crud. You can use some red rubber grease to lubricate the seals.
Motorcycle and scooter brake caliper rebuild kits
The rubbers within the brake caliper – the seals, boots and bleed nipple covers – are perishable, and so will need routine replacement. Wemoto stock full caliper rebuild kits containing all the seals required, and individual seals can also be purchased separately.
Motorcycle brake caliper fittings
Wemoto stock many of the often replaced brake fittings, such as:
If the bleed nipple in your caliper has corroded then it can be difficult to bleed your brakes; you can bypass a seized bleed nipple by installing a banjo bolt bleed nipple, which will allow you to bleed through the banjo bolt instead.
Scooter brake parts
Wemoto also lists these parts for scooters – and most frequently replaced brake parts are stocked for quick dispatch to get your scooter, moped or motorcycle back on the road as quickly as possible.
Use the drop down menus at the top to search for brake parts for your bike.
CAN'T FIND WHAT YOU'RE LOOKING FOR?

—
Due to the COVID-19 situation we are experiencing extremely high levels of inquiries with limited customer service staff on site. As always, we aim to reply as quickly as possible however current response times can be up to 3 working days. Queries relating to current orders are being prioritised.

Please check our Covid-19 FAQ's page for more information, Thank you for your patience during this time


Please use the form below to submit your enquiry taking care to enter your correct e-mail address. If you are enquiring about an ongoing order please quote the invoice or order number in the subject line.
OUR RANGE OF OEM AND PATTERN PART BRANDS

—