Forks
Select your model using the lists below
Motorcycle forks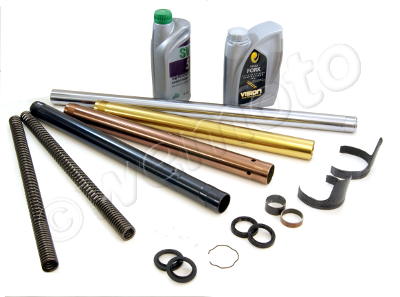 For as many models as possible, Wemoto stocks everything you need to maintain your forks. From the fork tubes (stanchions) themselves, springs, bushes, seals and oil, to universal fork gaitors and protectors to keep them in good shape.
We also have fork drivers and other tools to fit new seals without damaging them.
A comprehensive fork tube range
A damaged, bent or pitted fork tube or perished or cracked fork seal can result in an MOT failure.
Paolo Tarozzi replacement fork tubes are made in Italy to the same spec as the original equipment stanchions and with a hard chrome finish. Replacing old bent forks with aftermarket Tarozzi forks is often cheaper than straightening the originals.
For some models, Tarozzi fork tubes are available with a speciality coloured coating in gold, red, or black.
Quality fork springs
Wemoto list Hagon (made in the UK), Wirth (made in Germany) and YSS (made in Thailand) progressive fork springs, which are an upgrade of conventional springs. While conventional fork springs have the same spacing all the way down, progressive fork springs are wound tighter at one end – as the suspension is compressed the springs become stronger, for improved handling when the going gets rough without disturbing handling in normal conditions.
Selected fork oil
Wemoto stock a choice of fork oils, from manufacturers Vision and Rock Oil and from 5W to 20W. A lower or higher fork oil weight than standard can be used to soften or harden your front suspension.
CAN'T FIND WHAT YOU'RE LOOKING FOR?

—
Due to the COVID-19 situation we are experiencing extremely high levels of inquiries with limited customer service staff on site. As always, we aim to reply as quickly as possible however current response times can be up to 3 working days. Queries relating to current orders are being prioritised.

Please check our Covid-19 FAQ's page for more information, Thank you for your patience during this time


Please use the form below to submit your enquiry taking care to enter your correct e-mail address. If you are enquiring about an ongoing order please quote the invoice or order number in the subject line.
OUR RANGE OF OEM AND PATTERN PART BRANDS

—