Mirrors
Select your model using the lists below
The widest range of motorcycle mirrors - and for mopeds and scooters

Wemoto stocks the UK's largest range of motorcycle mirrors and fittings - and they're all at great prices. Choose from classic oval and circular mirrors, or a range of modern shapes and patterns, with finishes that look great on your bike - including chrome, silvered, carbon fibre or black. And with built-in indicators on many models.
Manufacturers' and pattern mirrors
We give you the choice of manufacturers' own mirrors or high quality pattern parts such as Vicma mirrors - all at low prices. If your bike isn't listed, you can choose from a range of standard sizes, finishes and types.
Whichever you choose, you can be sure that scooter, moped and motorcycle mirrors from Wemoto are always the best value.
Click below for shortcuts to bike mirrors:
Motorcycle mirror fittings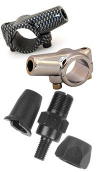 From adaptors for changing internal to external threads to bar end adaptors. And from extenders to handlebar clamps, we stock just about everything you'll need to attach a mirror to you bike and to adjust it so it's mounted exactly in the right place.
Click below for:
Search for your motorcycle (above) and motorcycle mirrors and fittings using the Part search (right).
CAN'T FIND WHAT YOU'RE LOOKING FOR?

—
Due to the COVID-19 situation we are experiencing extremely high levels of inquiries with limited customer service staff on site. As always, we aim to reply as quickly as possible however current response times can be up to 3 working days. Queries relating to current orders are being prioritised.

Please check our Covid-19 FAQ's page for more information, Thank you for your patience during this time


Please use the form below to submit your enquiry taking care to enter your correct e-mail address. If you are enquiring about an ongoing order please quote the invoice or order number in the subject line.
OUR RANGE OF OEM AND PATTERN PART BRANDS

—